sdfsd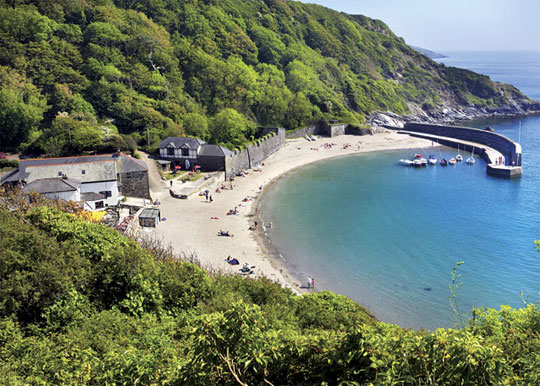 Our nearest beach, Polkerris, has everything you could need for a perfect Cornish beach holiday. A sheltered, west-facing, sandy cove with excellent facilities, it is situated in a tiny hamlet overlooking St Austell Bay.
In the past Polkerris was a thriving fishing village. At one time its fish cellars were the largest on the South Coast. The earliest lifeboat station on St Austell Bay was also at Polkerris, from 1859 until 1922 when it transferred to Fowey.
Steeped in history and charm, the area was a great inspiration to the author Daphne DuMaurier, who at one time lived in Polkerris. The village has also been used as a film and television location.
Nowadays the beach continues to thrive, with the seafront home to a popular water sports centre with shop and cafe, a traditional pub and a fantastic restaurant. There is a slipway down to the beach. The water is ideal for bathing as there is a very gentle sea-shelf, and the beach is small enough to be safe for young families. The South West Coast Path is easily accessible from Polkerris, where you can take in some breathtaking scenery and discover more secluded coves.
Polkerris Water Sports Centre
Polkerris is a great place to gain your confidence in the water as it is sheltered, and compared to the estuary there is less traffic on the water and there are less powerful tides. The RYA Recognised Training Centre at Polkerris offers personalised sailing and windsurfing tuition for all levels of ability, with qualified instructors. They also offer supervised sessions without instruction, giving you the reassurance of safety. Alternatively all of the equipment is available for hire if a certain level of competence can be shown.
The centre also offers hour-long courses in stand-up paddle surfing, and the boards can be rented so you can explore the coast around Polkerris. Kayaks can also be rented.
Located right on the beach and equipped with new changing rooms with showers and toilets for 2009. The shop stocks wetsuits, outdoor clothing and beach goods like buckets and spades and inflatables. There is also a small cafe which sells locally made ice creams, tea & coffee and snacks.
www.polkerrisbeach.com
Tel: 01726 813306
The Rashleigh Inn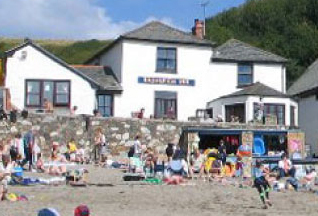 A favourite with walkers, sailing enthusiasts and beach-goers alike, The Rashleigh Inn is a friendly, traditional Cornish pub with a restaurant area and a large comfortable terrace right on the beach. The sun setting over the bay makes a beautiful sight to enjoy over dinner or a glass of wine. Or you can relax by the fire after a long Sunday walk along the coast path and play a board game or read the paper and enjoy a bar snack.
The original pub was damaged in bad storms in 1915, and was demolished. The present day pub is situated in the old Coastguard building on the seafront. Some parts of the building are 300 years old and the pub is said to be haunted!
www.therashleighinnpolkerris.co.uk
Tel: 01726 813 991
Sams On The Beach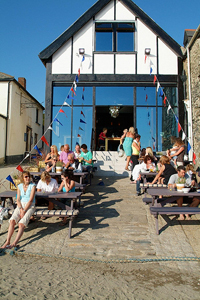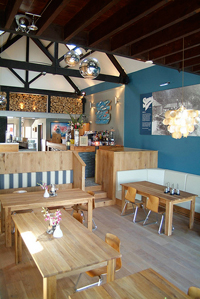 Sams restaurant in Fowey has been very popular with both locals and tourists for many years, serving great food in a great atmosphere with friendly staff. Now Sam has opened a new restaurant in the old lifeboat building at Polkerris, we can enjoy the vibe without having to go into Fowey.
The building itself has been renovated to a high standard of contemporary design. The front of the building facing the sea is made entirely from glass, giving you the chance to take in as much of the fantastic view as possible. Inside there is an eclectic mix of old film posters, lifeboat memorabilia and modern comfortable furnishings.
Enjoy pizzas made in a traditional wood fired oven, fresh seafood and steaks. There is also a takeaway service available. There are extra tables outside on the beach front, but this restaurant is so popular in the summer it is advisable to book in advance.
www.samsfowey.co.uk
Booking Line: 01726 812255